This internship report is based on my experience as a MIBTP-DTP Professional internship student to liaise with the executive office of the British Society of Soil Science (BSSS), for the fulfilment of a three-month non-academic placement. During my internship, I was involved in several policy-driven administrative and organisational activities to support several society projects. My tasks and responsibilities included coordinating the writing and publishing of guidance notes, consolidating, and developing website pages, updating and extending society resources, and fulfilling other administrative duties.
Midlands Integrative Bioscience Training Program (MIBTP) is a BBSRC funded Doctoral Training Partnership between the University of Warwick, the University of Birmingham, the University of Leicester, Aston University, and Harper Adams University. This four-year training program has several aspects for PhD students that include Interactive Training modules, mini-projects, and a PIPS placement along with several other opportunities to develop a wide variety of skills. A significant part of PIPS is the three-month non-academic work placement, where the nature of work should focus on administrative, managerial, or organisational aspects instead of scientific or lab-based research work. The purpose is to engage the students in any activities that could help develop professional career skills and enable them to attain a broader understanding of social and economic aspects.
During the first week of my internship, I received comprehensive training and induction sessions. I was briefed about the Society strategy and mission, along with health and safety guidelines and necessary measures by my manager. Additionally, I received website training, such as how to access the society database/shared folders, media library, creating posts, and webpages.
I was regularly involved in the team's weekly catch-up meetings, and one-to-one catch-up meetings with my line manager, and the Executive Officer respectively. The purpose of the team meetings was to stay aligned with the planned tasks, plan newsletter content, update each other with news from the week before, and discuss any opportunities and challenges. Whereas the one-to-one meetings were to discuss my tasks specifically and any further support that I needed.
I found the nature and mode of work at the host institute interesting, and it helped to improve my communication and time management skills, which I believe will have a tremendous contribution to my PhD and prospective career.
One of my main duties was to develop guidance/science notes on a range of subjects, alongside a group of experts to provide guidance to the soil science community, stakeholders, and government. The evidence and guidance provided in these notes aims to help us understand where we should focus our efforts and the trade-offs involved in each of them, to support our collective aims to achieve net zero. I was involved in one of the notes for the Land Use for Net Zero series, for a non-scientific and farming audience and commonly known as Monitoring, Reporting and Verification (MRV), which aims to provide an overview to land managers/farmers and guide them about principles and techniques for accurately monitoring and ensuring the substantial changes in soil carbon along Greenhouse Gases (GHG) reductions over financial periods.
I was also responsible for updating the webpage of the World Congress of Soil Science 2022, specifically the consolidation of content from other websites for closing, and redesigning the current webpages to highlight the legacy of the event. The World Congress of Soil Science is a leading international soil science conference, held every four years in different countries and in 2022 was hosted by the British Society of Soil Science on behalf of the International Union of Soil Sciences. The congress was held between 31 July and 5 August 2022 and took place at the award winning and world-class Scottish Event Campus, a riverside venue minutes from central Glasgow in Scotland, UK.
I was also involved in the development of the Biochar guidance note which aims to develop understandings about Biochar production methods, application and its positive influence on soil properties and functions. I was involved in the development of contents and modification of outlines, finalising the draft of the guidance note by writing notes, updating the references, sending for peer review, and compiling the feedback. For instance, to set out the latest data and evidence, with recommendations on how to use it. I finalised the draft of the guidance note which is under revision, and I was an equally contributing author for this note.
During my placement, the society received the Award for Best Environmental, Social and Governance (ESG) Event at the the In-House Corporate Events Conference (ICE). The ICE Conference took place at Rose Court in London, which included several empowering sessions dedicated to help delegates recognise and leverage their leadership voices. I had the chance of covering several case studies as the sessions were simultaneously running throughout the conference and I was also glad to accompany the former BSSS Executive Officer, Sarah Garry, while delivering an Event Legacy on a Budget campfire session. She explained how the society delivered WCSS22 against its objectives and was able to have a positive impact on the environment and raise the profile of soil amongst 10,000 local residents, with a budget of just over £1,000.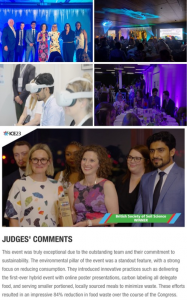 My PIPS placement offered me the opportunity to interact with the best experts in their profession to draft, develop and review two guidance notes and enabled me to communicate with stakeholders while working towards deadlines and project management which are all very essential business skills. This experience has greatly influenced my interest and career aspirations towards policy and research within a business environment. I truly enjoyed my time at the British Society of Soil Science, and I gained a significant amount of knowledge about science policy which is an area I have been interested in since high school. I appreciated my time away from the lab and valued the opportunity to gain insight into careers outside of academia.