Working with Soil training courses
Getting your hands dirty is not only fun but an important part of being a soil scientist. April saw the return of our face-to-face Working with Soil training courses. It was fantastic to see (I was snooping on social media!) so many delegates on the two courses on a practical guide to soils in England and in Scotland. A big thank you to the tutors and the BSSS executive team for delivering these brilliant skills-based training courses. There is a further course in Aberystwyth in October – for more information, click here. These courses are really important to put research into context by understanding systems in the field and being able to recognise key soil functions and processes through field observation.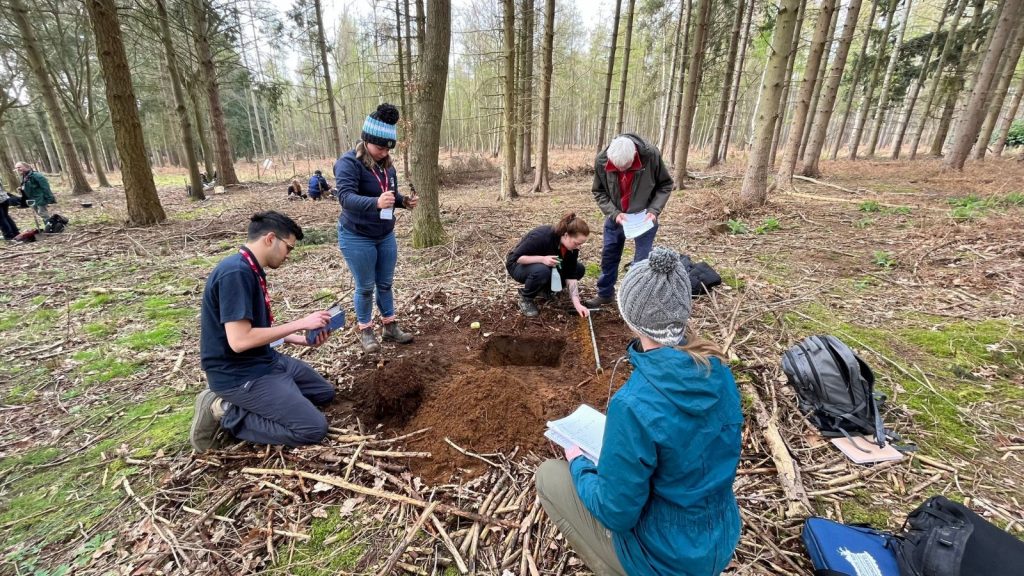 Coronation Garden Party at Buckingham Palace
I have wandered past the imposing gates of Buckingham Palace many times but never thought I would get to peek inside the grounds. I finally got the chance when the presidential team (Jack Hannam, Bruce Lascelles and Paul Hallett) and Executive Officer, Sarah Garry attended the Coronation Garden Party at Buckingham Palace in May! We were invited by our Patron, HRH Duke of Gloucester, and met him at the event after the royal party descended the steps onto the main lawn. We chatted about Buckingham Palace gardens, remarking on the state of the soil and some peculiarities the Duke had noticed. And of course, the forthcoming preparations for the coronation. We had a great time; the tea and cakes were delicious, and I think Paul managed to try all the ice cream flavours on offer. Bruce received many compliments about his WCSS tartan waistcoat (you can still purchase WCSS items from our Etsy shop). It was a real honour to represent the Society and its members.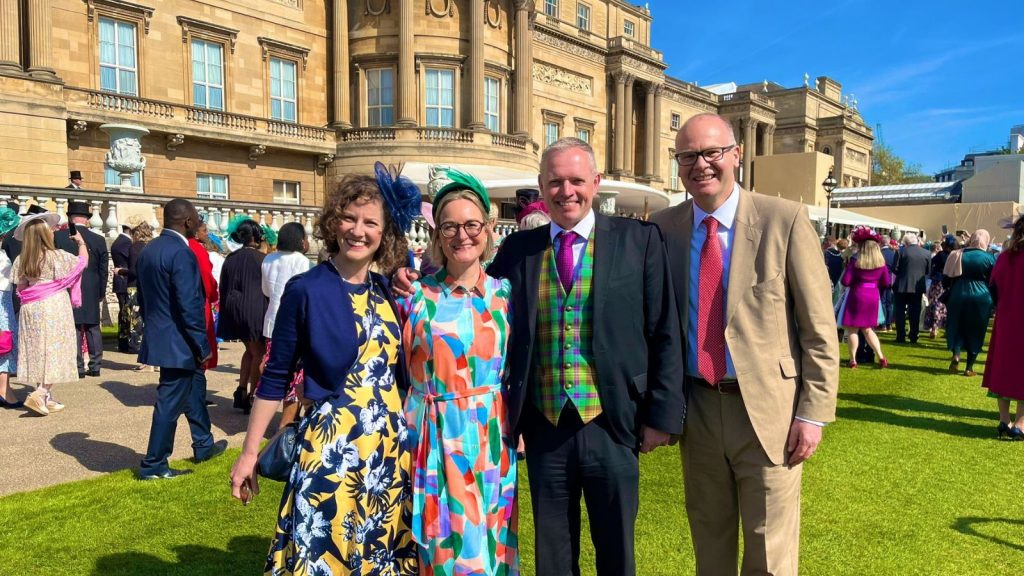 SB58 UN Climate Change Conference
You don't have to be a soil scientist to notice how parched and cracked the ground is at the moment. It is clear the impact of climate change is happening now, with soil playing a crucial role in mitigation and an urgent need to also focus on adaptation. BSSS has observer status at COP and associated meetings, and Sarah Garry and I attended the SB58 UN Climate Change Conference in Bonn in June. We co-hosted a policy luncheon event with the Coalition of Action 4 Soil Health (CA4SH) and the International "4 per 1000" initiative, attended by many stakeholders from various international governments and organisations. COP and associated meetings are all new to us, but we have had valuable overviews at last year's COP and this meeting about how we might provide a voice for soil. Our event precipitated lots of follow on discussion after our invited speakers; there was a real buzz in the room!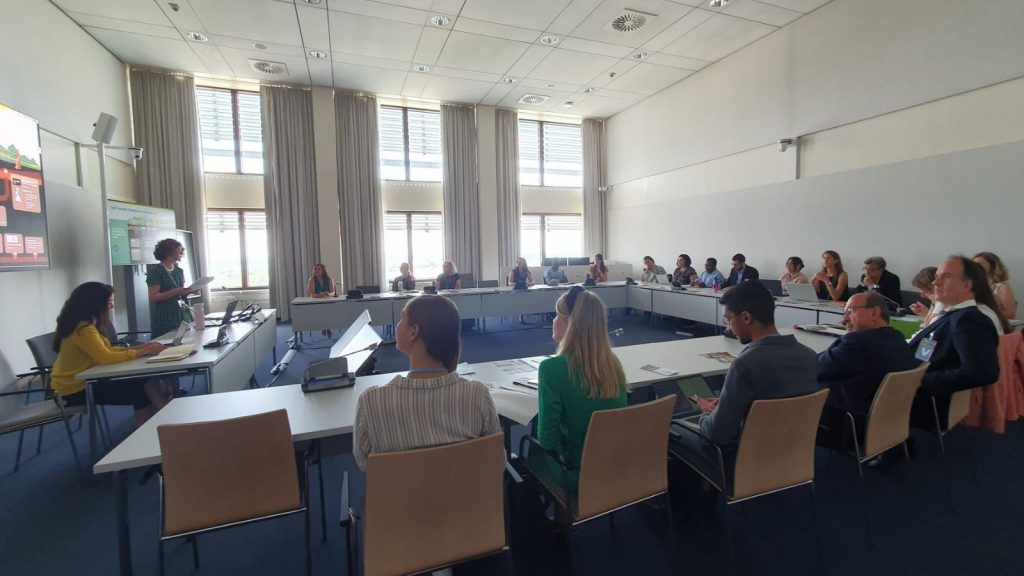 During my invited talk, I highlighted our UK policy work, particularly the Society's involvement in the EFRA Soil Health Inquiry. It has been brilliant to see so many of our members providing expert evidence at the oral sessions in Parliament over the last months. I also highlighted the devolved nations strategies for peatlands, one of our greatest terrestrial carbon sinks, recognising the need to restore and preserve these important habitats for biodiversity and climate. Finally, I underscored the need for overarching national soil policies to deliver for soil health through sustainable soil management, one of our key asks of the soil health inquiry. Our focus was similar at the meeting at Bonn and for the forthcoming COP28; to highlight how soil is part of the solution, delivering multiple co-benefits to climate, agricultural livelihoods, and food security.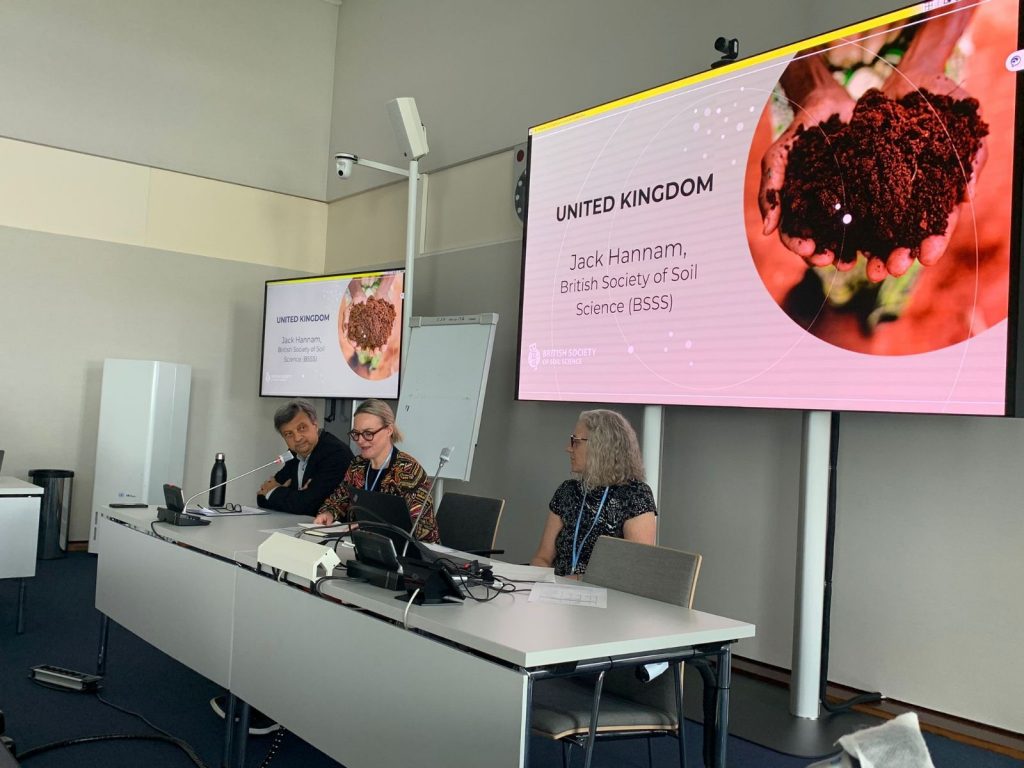 I am a passionate champion for the brilliant research and practice of the Society's members and our outstanding journals European Journal of Soil Science and Soil Use and Management that support the publication of your innovative work. This research and practice has a fundamental role not just for furthering our scientific understanding of the world beneath our feet, but to provide robust evidence to support policy development and implementation. Our collective work has significant impact to tackle major global challenges, and I'm excited to take BSSS on this journey.